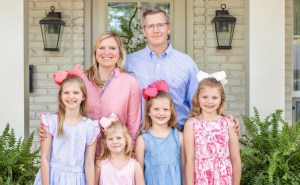 Rev. Ryan Moore
Senior Pastor
Ryan and Ada Moore currently serve with their four daughters, Mae (12), Anne Hardin (10), Virginia (8), and Bess (7). They moved here from Ft. Worth, Texas, serving there from 2015 to 2021 after serving seven years with RUF at the University of Alabama in Tuscaloosa, AL. Before that, both Ryan and Ada attended seminary at Covenant Theological Seminary in St. Louis where Ryan received his M-Div and Ada received a Masters in Christian Education.
Ada grew up in St. Louis, MO but moved to Germantown, TN when she was 12. She attended Auburn University in the fall of 1998 and upon graduation in 2002, went to work for RUF as an intern at the University of Tennessee in Knoxville. Ada grew up a covenant child in the PCA and can say she does not remember a day when she did not know Jesus. While her heart is prone to wander (as is true for all of us), God and his grace remain faithful. Ada enjoys exploring new places, being outside, meeting new
people, and laughing at good jokes.
Ryan was born in Addison, IL just outside Chicago but moved to Dayton, TN when he was six. In 1998 he attended the University of Tennessee in Knoxville and upon graduation, worked in college ministry before heading to seminary in 2005. Ryan and Ada married in May of 2006 just after their first year in seminary. Ryan grew up in the United Methodist Church and prayed to receive Christ in junior high. He joined Redeemer (PCA) in Knoxville in 2003. Ryan enjoys just about everything. From watching college football/basketball to painting, from any outdoor sport/activity to a good card game with friends, Ryan is pretty much up for anything.
Ryan and Ada have always had a heart for the college campus and the church. What initially attracted them to Wallace was the unique opportunity of the church's placement near the University of Maryland.
Learning more about the College Park and greater DC area, Ryan and Ada get excited about their girls growing up in a more urban, culturally diverse part of the country. The Lord has gifted the Moores with a heart for people of all walks of life. They long to see God's people grow in their knowledge and love of him, while, at the same time, seeing non-believers and the de-churched experience the grace of Jesus for the first time. Much of their ministry runs through their gifts of hospitality and a desire to love others
as Jesus has loved them – unconditionally. They get excited about the challenges and opportunities that lie ahead as a Senior Pastor, but equally look forward to what they will learn from the members of Wallace as we all learn to follow Christ together in this next chapter.
Dr. David Miner
Assistant Pastor of Mission & Visitation
David and Eleanor Miner moved to the College Park area to be closer to grandchildren after David retired from a pastorate in northern New Jersey. Having attended Wallace PCA for a number of months, the pastoral staff and Session offered David further ministry as Assistant Pastor for Visitation and Missions. He accepted and was installed in November 2014.
David and Eleanor were married in 1970 and have six children including Mary Miner and Ruth Zuba, both members of Wallace, and 13 grandchildren.
David was raised in India where his parents were medical missionaries with a Baptist group. Eleanor was raised in New Jersey. They met in Wheaton, Illinois after college when David was in seminary prior to graduate studies in philosophy. After Army service and graduate school, he did not find a philosophy teaching position and worked in carpentry for about twelve years while doing some theology teaching on the side. Then in 1992 he was granted the privilege of serving as pastor in the PCA church in Millburn/Short Hills where they had been members since 1979. He retired in 2012.
David has had an interest in woodworking since he spent many hours watching an Indian cabinetmaker as a child. Eleanor has an interest in gardening and bird watching. Both often walk together. Both delight in the increased time they have for reading and attending separate book clubs. They also enjoy skyping with scattered children and grandchildren and occasional trips to visit them in Prague and Seattle.